back
BORIS ARTZYBASHEFF
MAIN MENU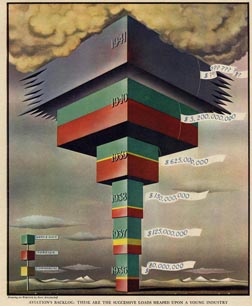 FORTUNE ILLUSTRATIONS AND COVERS
| | |
| --- | --- |
| | JAPAN IN ASIA, 1941 APRIL cover |
| | JESSE JONES, 1943 portrait |
| | |
| | MY FIRST SCREEN |
Diagrams for FORTUNE
| | |
| --- | --- |
| | LENDLEASE 1941 |
| | COSMOS OF THE UCC JUNE 1941 |
| | COSMOS OF THE UCC (DETAIL) |
| | ECONOMIC MOBILSATION DECEMBER 1940 |
| | THE CORN KERNEL JUNE 1943 |
| | A PILOT'S BLACKOUT Sept 1940 |
| | |
| --- | --- |
| | US PUBLIC HEALTH SERVICE |
| | AVIATION'S BACKLOG |
| | WORLD'S AIRWAYS |
| | CURE BY CHEMICALS SEPTEMBER 1939 |
| | |
| --- | --- |
| | THE AMERICAN ECONOMY 1941 |
Maps for FORTUNE
| | |
| --- | --- |
| | The Industrial South 1938, 29 x 35 cms |
| | The Industrial South 29 x 35 cms (detail) |
| | Japan in Asia August 1941 |
| | The Last of the Free Seas July 1940 |
| | The Last of the Free Seas detail |
| | |
| --- | --- |
| | Chemical Valley September 1941 |
| | Chemical Valley (detail) |
| | China's Main Roads are Rivers Dec 1940 |
| | |
| --- | --- |
| | World Airways March 1941 |
TIME COVERS (A SMALL SELECTION)
| | |
| --- | --- |
| | A MISCELLANY |
| | |
| --- | --- |
| | DAVE BRUBECK 1954 |
| | JACQUES COUSTEAU |
| | LYNDON JOHNSON 1960 |
| | NIKITA KRUSCHEV 1956 |
| | |
| | |
| --- | --- |
| | AMATEUR PHOTOGRAPHER 1953 |
| | THE PENTAGON 1951 |
| | NEW PRODUCTS (DOUBLE PAGE) 1960 |
| | THE TELEPHONE MAN 1959 |
| | |
COVERS AND BOOK ILLUSTRATIONS
| | |
| --- | --- |
| | ORPHEUS MYTHS OF THE WORLD with Padraic Colum 1930 |
| | SEVEN SIMEONS 1937 |
| | THE GOLDEN BOOK (COVERS) |
| | TONGUE TWISTER (PETER PARKER 1936) |
| | DON QUIXOTE (FROM GENE BYRNE) 1939 |
| | |
| --- | --- |
| | AESOP, THE FOX AND THE GOAT (single) |
| | |
| --- | --- |
| | FUNNY BONE ALLEY 1927 1 |
| | |
| --- | --- |
| | FUNNY BONE ALLEY 1927 2 |
| | |
| --- | --- |
| | MECHANIX ILLUSTRATED December 1954 |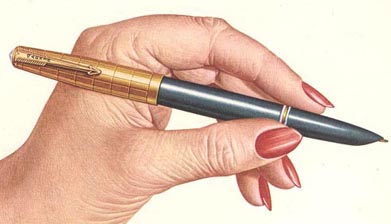 ADVERTISING
| | |
| --- | --- |
| | LYCOMING GALLERY |
| | AJAX AND AERO PAPER CUPS |
| | PARKER PENS GALLERY ONE |
| | PARKER PENS GALLERY TWO |
| | PARKER PENS GALLERY THREE |
| | XEROX |
| | |
| --- | --- |
| | AMERICAN EXPORT LINES C1938 |
| | TRAVELLERS' INSURANCE |
| | PARKER PENS GALLERY ONE |
| | SHELL X 100 MOTOR OIL May 1952 |
| | SHELL X 100 MOTOR OIL June 1951 |
| | |
| --- | --- |
| | 'He Brings Machines to Life', Mechanix Illustrated December 1954 |
| | E.W.Watson, Forty Illustrators and How They Work, 1946 |
| | John R.Williams, "I Like Machines, Boris Artzybasheff's Machine Aesthetic",Special Issue of Interdisciplinary Humanities 23.1 (2007): 120-142. Much recommended and available for download as a PDF. |
| | Boris Artzybasheff, As I See, originally, Dodd Mead 1954 now reprinted Titan 2008 |
| | His papers are held at Syracuse University. |
Boris Artzybasheff (1899-1965) has gone through the critical understanding barrier. Much vaunted as the Neglected Surrealist of Mechanismo, he is neither neglected nor a Surrealist. His acid coloured Gremlins caused much fluttering among those who don't know what to say about pictures.
But he is more than that.
He is prolific and inventive and clever. When restricted to the protracted continuance of a type (Lycoming anthropomorphs) Oily Devils and poised hands holding Fountain Pens, etc etc he gets bored and bores. But mould these graphic skills into the precise communication of information, maps and diagrams, he is a master at visualising data and process - clear and immediate. I have lived with The Cosmos of the UCC framed on our wall here in Brighton since 2005, and it never fails to seize the attention. I have added other representative material, from a range of sources. His early work before 1930 repays study, very close to Antonio Petruccelli in the late Twenties. I asked Tony if they ever met. Sometimes in a corridor, in passing, he said regretfully.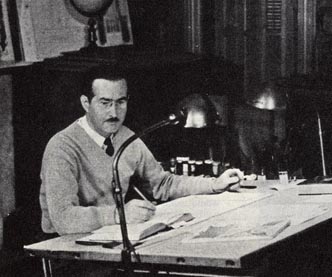 back