WONDERWORLD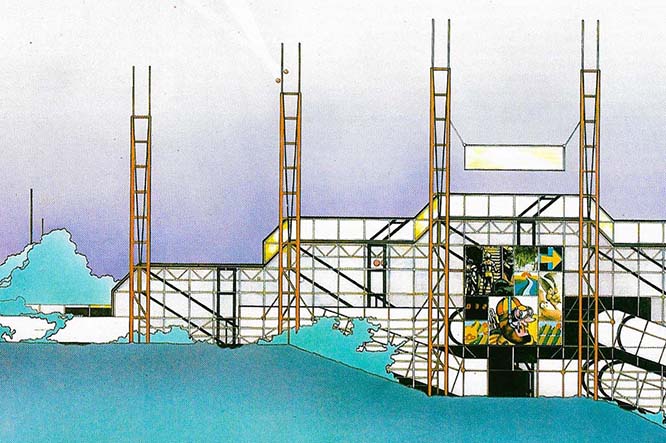 INVENTED PLACES
| | |
| --- | --- |
| | ONE CONTEXT AND INTRODUCTION |
| | |
| --- | --- |
| | TWO LAND, SAFETY. LOST VILLAGE OF RHYME |
| | |
| --- | --- |
| | THREE THE BODY, MUSIC, CONCERTS THE WORLD |
| | |
| --- | --- |
| | FOUR RESORT, STADIUM, ENERGY |
| | |
| --- | --- |
| | FIVE GROUP SEVEN SPEAKS, HOSPITALITY, THE WW SYMBOL |
| | |
| --- | --- |
| | SIX ADVERTISEMENTS |
| | |
| --- | --- |
| | SEVEN FROM SIR JOHN EDEN |
| | |
| --- | --- |
| | BACK TO AD MAGAZINE |
An entire issue of Architectural Design is devoted to the impact of Disney and Disneyland on architecture. The magazine was guest edited by Derek Walker, the celebrated inventor of Milton Keynes. In fascinating detail it traces the intentions of the Prime Motivators, the South African construction company, Group Seven. in filling a large section of the town of Corby, wasted when the Steelworks closed down.
Walker Associates were the obvious choice, but nothing was built beyond a giant billboard while Group Seven failed financially and went bust. I give detail because the whole tale is a noble but sorry one, an uneasy fusion of entertainment and education in an uneasy massmind context of narratives foreshadowing the monstrous nonsense of the Millenium Dome. Male celebrities were selected to represent a particular body of knowledge, David Bellamy (botany/landscape) , Patrick Moore (astronomy/the Universe) , Dan Dareand the Mekon and Jonathan Miller (The Body).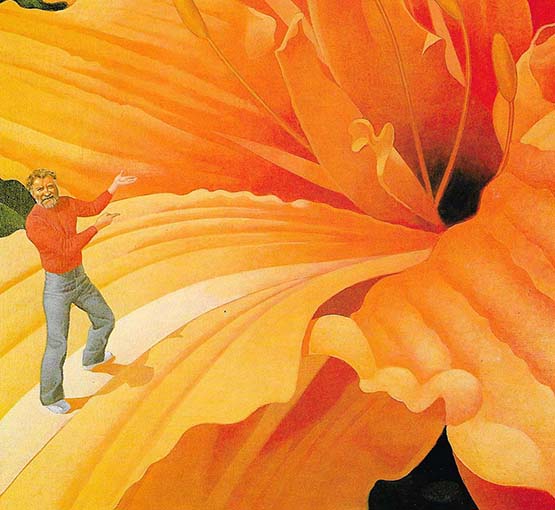 David Bellamy on safari in the
British Countryside.

BACK