William Henry Wills, later Lord Winterstoke (1830-1911 ), the pioneer of cigarettes manufacture and a moving force in the Imperial Tobacco Company (after 1901), gave up active management in 1880, although he continued as Chairman of the family Tobacco Company in Bristol. He was a benefactor of the arts and of civic matters in Bristol and served as a Liberal Member of Parliament firstly for Coventry and later for South Bristol. East Court was his seaside home shared with his wife Elizabeth who died in 1896. Wills was childless when he died in 1911 and the house passed to his niece Janet Stancom-Wills. In 1952 the house was bought by the Church of England's Children's Society. After 1983 the house became a school for dyslexic children and at the date of my photographs was for sale by Strutt-Parker.
Ernest George (1839-1922) was in partnership with H.A.Peto (1854-1933) as one of the most successful and fashionable London architectural offices. Known for his picturesque massing on his large houses for clients, East Court was not influenced by his Flemish town house style, but something wholly original with unusual geometric layering, with daring silhouettes as layers protrude over layer, all faced in green Westmorland Slate laid in fish scale patterns. Wills commissioned him in 1889 and the house is dated 1890.The theme of themes from the Book of revelations explored in the interior is not unuusal for a man who was founder of the London Missionary Society and the British and Foreign Bible Society. The house may present a bold slabbish facade to the seawinds but is generally unostentatious and in its garden compact for an older childless couple xeeking a seaside home for a short period of the year.
see 2001, 'The Country Houses of Sir Ernest George and Peto', chapter in 'The Edwardian Great House', edited by Malcolm Airs, Oxford University Press, pp. 105 - 121. ISBN 0-903736-30-6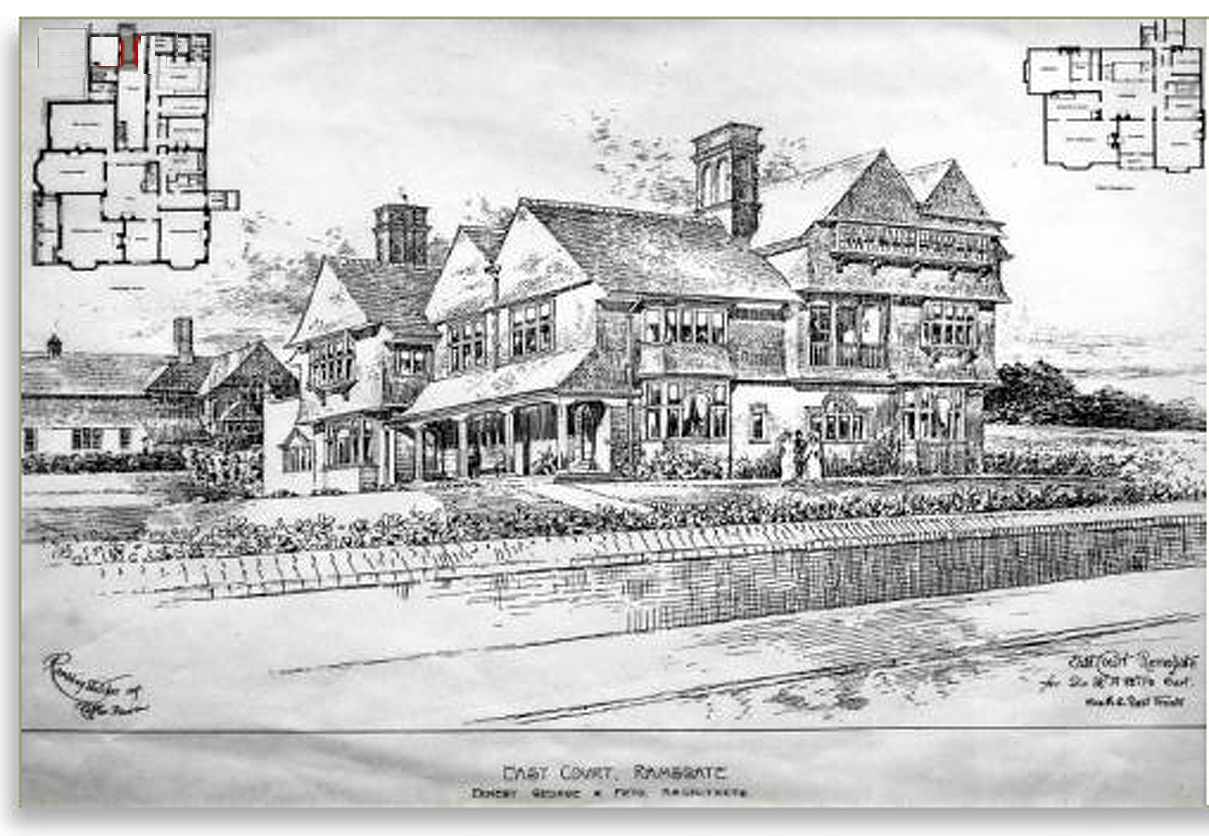 "Ernest George's country house practice was at its most extensive in the 1880s, a period of transition from his earlier exuberance to the staider formality of his later work. The houses included on this tour are Buchan Hill, a splendidly lavish affair of 1882 built with the proceeds of an ostrich-feather fortune in George's best Harrington Gardens manner; Woolpits, a Tudorbethan house of 1884 for Sir Henry Doulton (and liberally decorated with his company's terracotta); Dunley Hill of 1887, a rare excursion into the Queen Anne style for a retired Admiral and Sedgwick Park where we have lunch, an altogether quieter and more self effacing design of 1888 for a director of the Bank of England complete with the remains of a notable garden by Harold Peto. " preamble to an event organised by the Victorian Society, of 'Ernest George in the North Down'.
To the list of mercantile clients, feather's, money and terracotta, we must also add Sir Henry Peek of the tea trade and Peek Freane's biscuit company for whom Ernest George built another seaside mansion, in Rousdon in Lyme Regis (1874-8) , the village Peek had purchased in 1870. The comparison with East Court is instructive in showing how George developed an Arts and Crafts persona after his Tudorbethan massing and detailing of the seventies and early eighties