LECTURE HANDOUT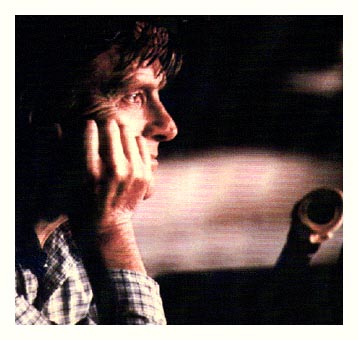 David Watkin is a Director of Photography for films. In the past, he says, his designation was the Lighting Cameraman. Rarely he is to be seen sitting on a dolly or operating a camera. The camera operator does that. As a Director of Photography he decides on lighting, lenses, and the look of a film. He is much in demand and I managed to book him before he flies to make a film in Toronto with Norman Jewison (Bogus).

The list of his film credits is long and includes some extraordinary productions.
He first worked on documentaries, with Edgar Anstey at the British Transport Corp. Film Unit and starting feature films in the mid 1960's with....
KEY FILMS

1965 Help (dir. Richard Lester; written Marc Behm and Charles Wood; Ray Sim art/d; the Beatles second film) "the colour lensing is a delight.. "

1965 The Knack ( dir.Richard Lester , written Charles Woods after the play by Anne Jellicoe with Michael Crawford and Ray Brooks and Rita Tushingham, produced by Oscar Lewenstein).

1966 The Marat Sade (dir Peter Brook, written by Adrian Mitchell after the play by Peter Weiss, , with Glenda jackson, Patrick Magee and Ian Richardson. "I loathed and detested doing the play. I couldn't wait for it to end." Glenda Jackson.

1967 Mademoiselle (dir Tony Richardson , prod.Oscar Lewenstein, written by Jean Genet, art/d Jacques Soulnier, with Jeanne Moreau)

1967 How I Won the War (dir.Richard Lester , written by Charles Wood after the novel by Patrick Ryan, , with Michael Crawford, John Lennon, Roy Kinnear and Jack McGowran)

1968 The Charge of the Light Brigade (dir. Tony Richardson , written by Charles Wood, art/ds Edward Marshall and Julian Oman with Trevor Howard, Vanessa Redgrave, John Gielgud, David Hemmings)

1969 The Devils (dir.Ken Russell, written Ken Russellart/d Derek Jarman Robert Cartwright. with Vanessa Redgrave, Oliver Reed and Dudley Sutton)

1970 The Bed Sitting Room (dir. Richard Lester, written by Charles Wood aproduced by Oscar Lwith Rita Tushingham, Ralph Richardson, Spike Milligan)

1970 Catch-22 (dir Mike Nichols, written Buck Henry art/d Richard Sylbert with Alan Arkin, Orson Welles, Martin Balsam and Buck Henry) Watkin left with director Mike Nichols; Alan Arkin foreground left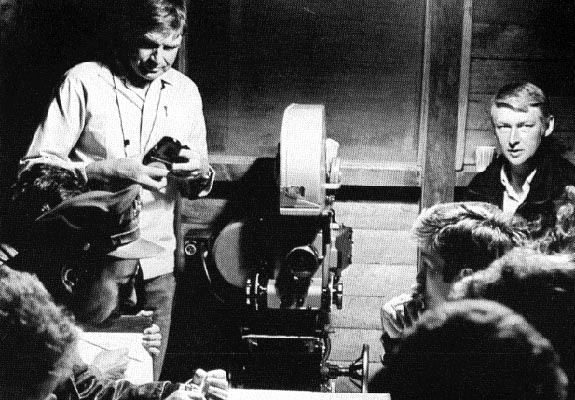 1973 The Three Musketeers (dir Richard Lester, written George Fraser, with Oliver Reed and Charlton Heston

1976 Robin and Marion (dir Richard Lester , wr.James Goldman art/d Michael Stringer, with Sean Connery and Audrey Hepburn)

1977 Joseph Andrews (dir. Tony Richardson, written Allan Scott and Chris Bryant after the novel by Henry Fielding, art/d by Michael Annals, with Ann-Margret, Michael Hordern, Beryl Reid etc)

1979 Cuba (dir. Richard Lester, written by Charles Woods, art/d Shirley Russell with Sean Connery and Brooke Adams

1981 Chariots of Fire (dir.Hugh Hudson, prod.David Puttnam, written by Cpolin Welland, music Vangelis, art/d Roger Hall, with Ben Cross, Ian Charleson, , Nigel Havers, John Gielgud, and Lindsay Anderson)

1983 Yentl (dir. Barbra Streisand, written Jack Rosental and BS, art/d Roy Walker ) "In league with ace cinematographer David Watkin, Streisand has created a fine looking period piece... "

1984 Hotel New Hampshire (dir. Tony Richardson, written TR, art/d Jocelyn Herbert with Jodie Foster and Beau Bridges)

1985 Out of Africa (Sidney Pollack , written by Kurt Luedtke, art/d Stephen Grimes) DW got an Oscar for his cinematography)

1990 Hamlet (dir. Franco Zefferelli , adapted Christopher De Vore, FZ, aer/d Dante Ferretti with Mel Gibson, Glen Close and Paul Scholfield)

1990 Memphis Belle (dir Michael Caton-Jones, wr.Monte Merrick) see beneath


1992 Used People (dir Beeban Kidron, written Todd Graff, art/d Stuart Wurtzl with Shirley Maclaine, Kathy Bates, Marcello Mastroianni)

1994 Jane Eyre (dir.F.Zefferelli. with William Hurt

1995 Bogus (dir Norman Jewison with Whoopi Goldberg and Gerard Depardieu)

1995 Night Falls on Manhattan (dir.Sidney Lumet)

He has photographed quite a bit of music in performance (Barenboim and the Mozart piano concertos) and music of the Arts lies closest to his heart. He has also worked extensively for commercials ; ie the ad withdrawn at the instigation of Norman Lamont showing Dennis Healey meaningfully standing by a brnach of Threshers offlicence , the old Italian woman weeping over peeled onions for Kleenex etc etc. and has recently filmed a Central Office of Information ad aimed at stopping young unlicensed drivers. He will talk for a short time and then answer your questions. They could be about the film trade, the design of lighting, prospects for the UKL film industry, the crew., who does what on a film, documentary work, working with designers etc etc. During the day, work out what you want to find out
.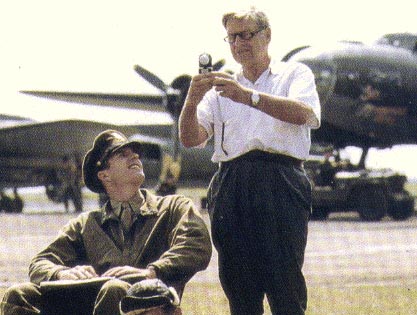 On Memphis Belle
BOOKLIST


Leonard Maltin, The Art of the Cinematographer, A Survey and Interviews with Five Masters ( Arthur Miller, Hal Mohr, Hal Rosson, Lucien Ballard and Conrad Hall), Dover NY 1978

Kris Malkiewicz, Cinematography , Columbus London 1989